Burnaby
Burnaby is a city with so much to offer, and a huge amount of rebirth happening. Whether you're looking in South Burnaby and the Metrotown area, or north Burnaby and the Brentwood/Lougheed area, both spots have great SkyTrain links, amazing shopping centres and are undergoing massive development.  This means there is a whole lot of housing inventory. And if you're worried this means an urban concrete jungle, don't be. Burnaby's parks are famous and its green-space-to-residents ratio is among North America's highest. So if you're into the idea of a new home in a rising city with great links to downtown, give Burnaby a try.



New Westminster is an attractive city soloing down to the lovely Fraser River waterfront and boasting great SkyTrain links to downtown Vancouver. New West is justly proud of its historic and vibrant downtown district, dating to the 1800s, which remains one of the city's main shopping districts. as well as downtown and the Quay district, there are many other neighbourhoods ranging from the affordable to the desirable. also in the mix here is Queensborough, which is over the bridge on the eastern tip of Lulu Island. Its Port Royal community offers a great array of new home options with much development going on, selling at far cheaper prices than you'll see in downtown Vancouver. 
North Vancouver
Lying on the lower levels of two North Shore mountains, a ferry ride across the Burrad Inlet from downtown Vancouver, is North Vancouver, which is divided into two municipalities - city and district. North Van is extremely popular with young families and outdoor activity enthusiasts, as it offers less-expensive homes than Vancouver, in a setting that enjoys amazing natural beauty. The neighbourhoods are very varied, however, with Lower and Central Lonsdale offering a more urban lifestyle and lots of high-rises and condos, compared with single-family-home neighbourhoods such as Lynn Valley and Seymour, which offer a family-friendly lifestyle and easy access to the local ski hills and world-class trails. In addition, the area includes the delightful historic town of Deep Cove, boasting gorgeous waterfront access to the indian Arm Inlet, as well as charming shops and restaurants.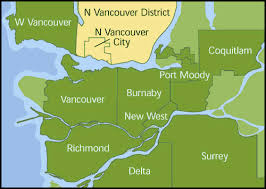 North Vancouver School District

District of North Vancouver
City of North Vancouver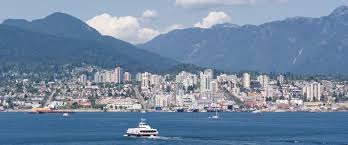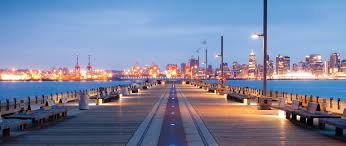 Richmond is happily located mere moments south of the Vancouver International Airport, and is entirely on Lulu Island, between the two arms of the Fraser River. The urbanized western part of the island is an extremely desirable location for families looking for close proximity to downtown Vancouver. Since 1990s it has also been a magnet for new Canadians from China, and in some ares, particularly Golden Village between Number 3 and Number 4 roads. It's easy to imagine you're in Asia with its abundance of Chinese restaurants and stores. TransLink SkyTrain has a terminus station, Richmond-Brighouse, in the heart of the area, which puts commuters in downtown Vancouver within minutes. The area's condominiums are priced lower than those in nearby Vancouver, making it a prime place for first-time home buyers who want to stay close to the city. In addition to Richmond's urban setting, outlying areas of the city offer a number of historic sites and destinations, including the Gulf of Georgia Cannery and Steveston Village, a working fishing village that is a mecca for tourists in the summer.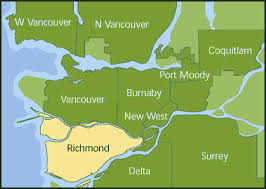 Tri-Cities
Offering a great option for affordability are Coquitlam, Port Coquitlam and Port Moody, otherwise known as the Tri-Cities. Port Moody and Coquitlam are located at the eastern point of the Burrard Inlet, with Port Coquitlam stretching further south to meet the Pitt River. Not only do each of these cities offer historic town centres, small-town charm, a great sense of community, fantastic natural beauty and stunning out-door amenities, but they are also set for great new transport links with the new Evergreen SkyTrain line.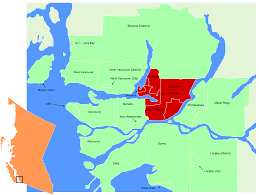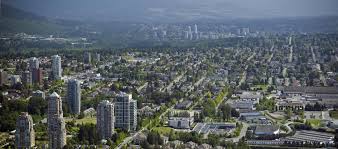 West Vancouver 
To the west of Lion's Date Bridge as you head north out of Vancouver's Stanley Park is the City of West Vancouver, one of the region's priciest and most exclusive districts. The city covers the lower section of Cypress Mountain and stretches around as far as Lion's Bay, up the Sea-to-Sky Highway along the Howe Sound. The neighbourhoods of Ambleside and Dundarave, which are down at sea level overlooking English Bay, offer more housing options and price points, with a mix of high- and low-rise residential buildings. But get higher up the mountain into the British Properties , or round the coastline towards Horseshoe Bay ferry terminal, and you're looking at mega-mansions worth many millions of dollars, almost all with incredible south- and west-facing ocean and city views.